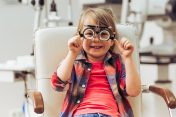 Vision & School
Healthy eyesight is way down the list of priorities for two thirds of Britain's school children. With children back at school and devices such as tablets and laptops now common place in the classroom, eye care experts are urging parents to make eye exams a priority. Around one in five children either don't have regular eye tests or have never had one, according to a study released by Sight Care, a support network for independent opticians which may well have a negative impact on a child's ability to learn. The study also shows that only a fifth of children have a simple eye test at school, which is why eye-care experts are urging parents to arrange for their children to be tested.
With 1 in 4 young children now using tablets at home, we can't get away from the fact that computers form a large part of our children's developmental learning. Close up digital use as well as traditional white and black boards, means that it's even more important for children to have regular eye exams. Previous studies estimate around 1 million children in the UK could be at risk of undetected vision problems. Eye exams can also show up various health issues and so are a vital health check for children who wouldn't necessarily show any adverse symptoms.
Overlooked
VisionCare Optometry believe that making sure children's eyes are properly tested at the beginning of the school year is a simple task that often gets overlooked:
VisionCare's Ruth Perrott says that "Eye tests for children are often some way down the list of priorities for busy parents. According to NHS figures, almost 80% of children in the UK visited their dentist between June 2011 and June 2012; yet our Sight Care survey shows that only 50% of children in the UK visit their optician regularly. Eye tests are free for children and they should only need their eyes checked once a year, so there's no reason not to visit your local independent optician. Good eye health in children is so important."
Sight tests are paid for by the NHS for all children under 16 and for students in full time education under the age of 19. In addition uncoated lenses for these age groups are free of charge. Call 01904 784040 or 01977 282100 to book your appointments now.