Index.php
What is myopia?
Myopia is commonly known as being short-sighted. It means you can see things closer to you, but not further away. This is due to the length of the eyeball being too long. This causes images to focus in front of the retina, and therefore appear blurry.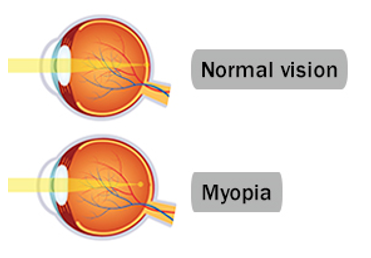 Who is affected?
In 2010 it was estimated that there were 2billion people with myopia. This is set to increase to a staggering 5billion in 20501.
Due to their continued growth, children and teenagers usually face a progression of myopia. Often this can mean their vision and therefore spectacle prescription can change every time they come for an eye exam – even when under 6 monthly review2 (see example below).

Genetics increases the risk of a child being myopic. A child without a myopic parent has a 25% chance of being myopic. If one parent is myopic, then the risk of a child having myopia increases by 3x, and if both parents are myopic, this rises to 6x3.
Why is the prevalence of myopia increasing?
Recent studies have shown that new patterns of lifestyle are contribution to the increase in myopia worldwide. An increase in close work, especially electronic devices such as tablets and phones, poor lighting and the reduced amount of time that children spend outside have all been found to contribute to an increased risk for the development and progression of myopia3.
Why is it a problem?
Not only does myopia mean dependence on vision correction, but as myopia progresses, the risk of related ocular health issues also increases. This includes retinal detachment, glaucoma and myopic maculopathy. Each of these can cause irreversible vision loss.
So, what can we do about it?
Changes in lifestyle – try to reduce the amount of time your child spends on electronic devices and increase their time outdoors. Studies have shown that spending more time outdoors may decrease the risk of myopia or myopia progression4.
Ensure regular eye check-ups – children do not always appreciate there is something wrong with their eyes. All children under 16 in the UK are entitled to a yearly NHS eye exam. Here at VisionCare Optometry we are happy to see children regularly from the age of 3, and sooner if you have concerns (especially if there is a family history of eye related problems such as squint and/or lazy eye). You don't have to wait for your child to be able to read letters, or even speak!
Myopia Control contact lenses – we now fit Coopervision MiSight® 1 day lenses. Unlike standard contact lenses and spectacles, these lenses don't just correct myopia, they may help to slow its progression too5. Where appropriate, we can fit children as young as 8 with these lenses.
Myopia control spectacles – for those not suitable for contact lenses, we can now supply myopia control spectacles* which may also help to slow down the rate of myopia progression.
Please come in and speak to us about any concerns you may have about your child's vision, and to discuss contact lens or spectacle solutions that may help.
More information can also be found on our Myopia Control page.
Holden et al, Ophthalmology 2016
Flitcroft DI. The complex interactions of retinal, optical and environmental factors in myopia aetiology. Prog Retin Eye Res. 2012;31(6):622-660
https://coopervision.co.uk/eye-health-and-vision/childhood-short-sightedness/could-your-child-be-short-sighted
Wolffsohn JS, Calossi A, Cho P, et al GlobalTrends in Myopia Management Attitudes and Strategies in Clinical Practice. Cont Lens Anterior Eye. 2016;39'106-16.
Chamberlain P, et al. Clinical evaluation of a dual-focus myopia control 1 day soft contact lens – 3-year results BCLA 2017
*Not fully covered by NHS GOS3 voucher
ACUVUE® OASYS with TransitionsTM Light Intelligent TechnologyTM
What are they?
ACUVUE® OASYS with TransitionsTM Light Intelligent TechnologyTM are the latest contact lens offering from Johnson and Johnson. They are similar to TransitionsTM spectacle lenses that change from clear to dark on exposure to UV and are the first contact lens of their kind on the market.
They begin to change immediately when exposed to sunlight, and then return to clear within 90 seconds of being indoors. Automatically balancing the amount of indoor and outdoor light entering the eye, they allow the eyes to adapt to changes in lighting more easily, which makes almost all lighting environments more comfortable. They also help to reduce glare from blue light sources such as computer and device screens.
They are not a substitute for sunglasses, as sunglasses also protect the skin around the eyes from UV damage, and the contact lenses do not tend to go as dark as a sunglass tint. They will also not work behind a windscreen.
Personal experience
Our Castleford Optometrist Lizzy, has been using these contact lenses for the past couple of months:
"I first wore the lenses during a very sunny week in New York. I kept forgetting that I was wearing them, as they don't alter the way in which you see. It was nice to have photographs where I wasn't squinting because of the sun. However it wasn't until I got home and swapped back to my usual, clear, contact lenses that I realised how much of a benefit the transitions actually were! I'm quite sensitive to sunlight and will often have to wear sunglasses, even on an overcast day, but realised I had only had to wear my sunglasses on sunny days.
Although they don't adapt fully behind a car windscreen or indoors, they do help to filter some of the effects of blue light from computer and device screens as well as helping to reduce the general glare from overhead lights, and headlights when driving at night. In general I find they make my vision more comfortable all day. As a result I've now decided to make the switch from my previous lenses!"
How can I find out more?
You can contact us, by phone or email, to find out if Oasys TransitionsTM contact lenses would be suitable for you, and to arrange a trial or fitting appointment. 
Introducing ACUVUE® OASYS with TransitionsTM