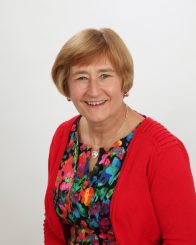 Meet our Boss – Ruth Perrott of VisionCare Optometry, 28 York Road, Acomb
(York Press).
Ruth Perrott is no ordinary optician, despite her unassuming demeanor, and has been helping people to see better for over 40 years. As well as being Managing Optometrist at VisionCare Optometry, she's also one of just 50 accredited Behavioural Optometrists in the UK, specializing in working with people who have dyslexia, colour blindness and had serious accidents or strokes to help rehabilitate their vision. Ruth's motto is – "There is more to seeing than meets the eye".
VisionCare Optometry, based in Acomb and Castleford, is a family business run by Ruth and daughter-in-law Paula, providing regular NHS and specialist eye examinations, vision consultancy and they offer a comprehensive range of eyewear from leading designers. Prior to opening the two practices, Ruth helped run the Optometry Department at York Hospital for four years and also worked as a locum in the area. They bought the first practice in Castleford in 1991 after Ruth had worked there and later in 2004 they expanded into York.
Ruth has also been travelling to Africa over the past 25 years to help give the gift of sight to people unable to receive proper eye care. Ruth spends two weeks in remote towns and villages including The Cameroon, Burkina Faso, Malawi, Senegal, Tanzania and Sierra Leone. She has helped thousands of adults and children to see by collecting old unwanted glasses, which are sorted, washed and measured by Rotary York Ainsty and then taking them over to Africa and providing eye care in makeshift clinics. Ruth, a former Rotarian, received the Paul Harris Fellowship Award by Rotary International for her dedicated work in Africa.
Ruth, who lives in Copmanthorpe is mother to two daughters and has three grandchildren, who are a huge part of her life. She and Colin are devout Christians and regularly attend Copmanthorpe Methodist Church where she helps run the Alpha Course. Colin and Ruth regularly open their home to young aspiring actors from the Riding Lights Theatre Company who stay with them whilst they are rehearsing, helping support the Christian theatre charity. Ruth came originally from north Birmingham, where she met husband Colin at school. One of her few pastimes when she's not working or spending time with her family is to sing with her local choir group.
What job would you like to have other than your own and why?
 I have always wanted to be involved in Optometry from being a teenager. I come from quite a medical background. My uncle was a GP, my aunt a pharmacist, my mum was a medical secretary and my sister also works in the pharmaceutical world.
I love what I do and the one-to-one with my patients. I like a challenge and thrive on facing it full on, which this job provides, as there is so much more involved than simply enhancing peoples' vision.
Greatest Achievement
My work in Africa feels like a great achievement to me. I first went out there in 1991 to help set up a clinic and prior to that I'd only ever been away camping with the Girl Guides. It was very daunting going somewhere so very culturally different and having to trek through the jungle carrying all our equipment, cooking on open fires, and sleeping on the floor in makeshift clinics.
In recent years I've developed an interest in autism, ADD, ADHD, strokes and brain injuries which can cause field defects and limitations in eye movements. Developing the visual system is an ongoing challenge for all types of patients.
I'm proud that we've been running the family business successfully now for 25 years, which is an accomplishment for an independent in today's world of chains and multi-nationals. I feel really privileged to be able to do my job and there is probably no other profession which can change the lives of so many people, so dramatically in such a short space of time by helping them to see.
What Makes You Angry
 People who throw litter out of car windows gets me angry. But I'm quite a passive person, so not a lot makes me cross. More things make me sad rather than angry, like the situation with the immigrants because I feel for the people.
Biggest Mistake?
I once decided to liven up some cauliflower cheese with pink food colouring, however no one shared my intrigue and it was left by all. Maybe they all had flashbacks to when I "accidentally" added balsamic vinegar to a cake I was baking rather than coffee and thought I had had a similar mishap. Husband Colin does the majority of the cooking now!
 What Do You Need To Make Life Complete?
 Apart from my family and many friends, I have a Christian faith which is the foundation of everything I do. I'm not doing it for me. I feel content and complete.
Why Do You Make A Difference?
It's not just a job to me, I like to talk and I'm fascinated with people. When people come to me I like to think I can listen carefully and pick up on the little things people say to pinpoint what their exact eyecare requirements might be to try and help them in their everyday life, whether it's being able to read a chapter of a book without the words falling off the page or competing at the Paralympics. This can make a huge difference to quality of life.
Epitaph
 As Ruth just laughed at this question she asked her husband of 41 years to answer for her. "Finally, she slowed down and retired!".
 VisionCare Optometry in Castleford celebrates its 25th Birthday on Saturday 12 November and people are invited to meet the team between 10am and 4pm for light refreshments.
 For more information please see www.visioncareoptometry.co.uk