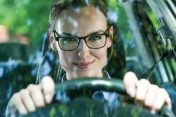 Driving up standards
Driving represents a real feat of multitasking and it places considerable demands on our eyes. From refocusing between distance and near objects (such as the dashboard or SatNav) through to peripheral vision, our eyes need to process a great deal of information. You won't be granted a driving licence if your vision is poor, so that regular eye tests are essential even for occasional motorists.
There are dedicated options which can help your driving vision, such as the polarised Drivewear lens and the recently launched Rodenstock 'Road' lenses which with dedicated optical properties can improve our visual driving experience. Thin frames can also help improve our peripheral vision at road junctions and roundabouts. Anti-reflective coats (MAR) can reduce glare and the dazzle of oncoming headlights.
Of course, effective car maintenance makes a surprisingly big difference to your levels of vision and even dirty windscreens may cause headaches. Replace worn wipers, keep the washer fluid topped up and immediately replace faulty headlight bulbs. Windscreen cracks should be replaced to maintain clear sight lines and windows cleared of mist or frost.
Did you know?
The DVLA needs to be notified about significant changes to your vision such as glaucoma or cataracts but only if they affect both eyes.
There are no restrictions regarding colour blindness/ confusion but you must have adequate visual fields. Our Optometrists can test all aspects of your vision quickly to provide that vital reassurance.
Call today on 01904 784040 or 01977 282100 to book your appointment, or alternatively book online