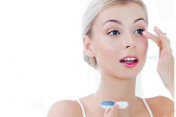 Contact lens care
Contact lenses are very popular among people with active lifestyles or outdoor jobs and today's leading ranges can provide crystal-clear vision at varying distances.
While early contact lenses were produced in the Victorian era from glass, most modern contact lenses are made with softer materials like silicone hydrogel. These allow plenty of oxygen to reach the eye's surface. These wafer thin lenses should be treated with respect, but looking after them can be very straightforward.
Disposables
Daily disposable contact lenses represent the ultimate in no-fuss vision correction, since they can be binned after a single use. They're supplied in individual blister packs and inserted in seconds, though it's essential to have clean hands
and to apply makeup after rather than beforehand.
Removing daily disposables becomes second nature, even for children. Many people favour reusable lenses, which are stored overnight in small circular containers. These cases should be regularly sterilised and air-dried and we can  recommend which cleaning solutions can be used to care for the cases and the lenses.
Cleaning
A gentle rub between thumb and forefinger may help to remove any surface impurities from contact lenses, though some cleaning solutions will take care of this by themselves. It's also advisable to keep a bottle of eye drops handy to counteract any dryness or irritation.
Aftercare
Don't forget to visit your Optometrist at regular intervals. This allows us to a) check on the condition of your eye, especially the cornea and b) the condition of your contact lenses.
Book an appointment today online or download your own IoS or Android App or call VisionCare Optometry on 01904 784040 (York) or 01977 282100 (Castleford).