Index.php
We are beginning to open our Practice's again.

During lock down we have taken the opportunity to decorate Acomb and deep cleaned throughout both Practices.
We are ready to welcome back anyone who is having difficulty with their vision but ask that routine symptom-free eye examinations to wait a while longer while we prioritise the appointments.

On arrival we will take your temperature and ask you to hand sanitise. Please bring with you a face mask – or we can sell you one for £1.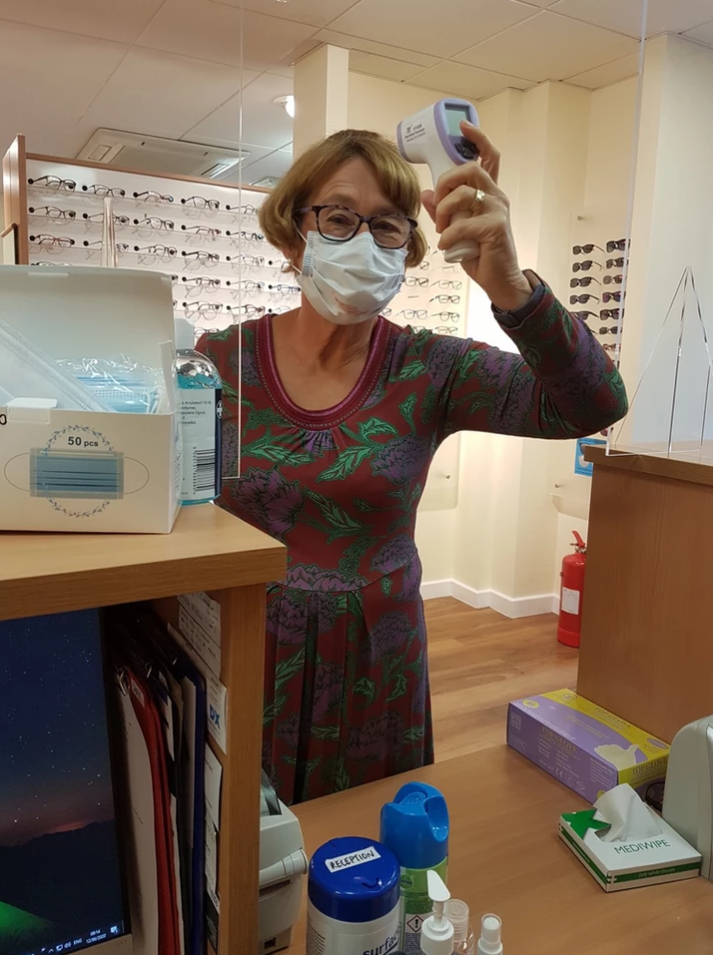 All equipment is sanitised between patients to ensure your health and safety.

The new regulations mean that you will have a specific time to attend when there should be no other patients on the premises.

We have shields now fitted at reception. Staff will be wearing face masks and are learning to smile with our eyes to make sure you feel welcome!

You are free to try on frames, but each one will be cleaned before returning to the shelves.

We are having to adapt to a new normal but aim to continue the same high standard of care with the same passion and enthusiasm. It just takes longer and we have plenty of space for social distancing.
Looking forward to seeing you again soon!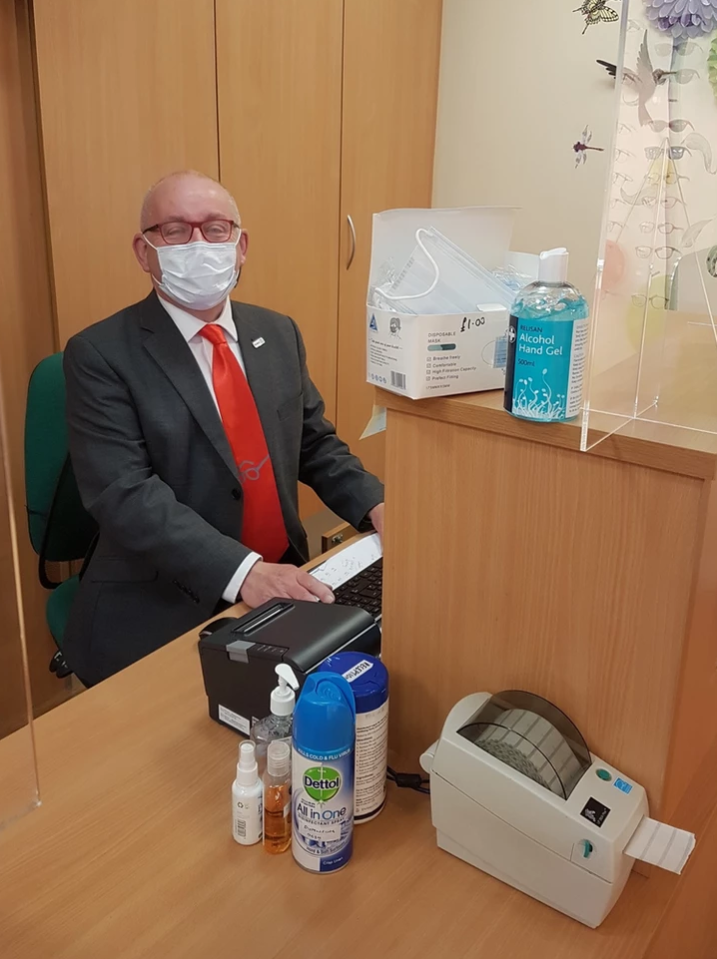 Dear Patients,
I hope that you and your family remain well and safe. Nobody knows what the next few months will bring and I wanted to contact you, to advise what we, VisionCare Optometry and VisionCare Development, are doing to ensure that we can continue to take care of you, our patients.
VisionCare is closed and we expect to remain so throughout this crisis. Our telephone and emails provide a method of contacting the business.
Until further notice, we will be offering only what could be categorised as "high priority" emergency appointments with our optometrists. So that if you are simply making an appointment for a routine check-up or eye examination, then we ask you postpone this until normal service is resumed. If however, you are having problems with your hearing or vision, have lost your glasses, or any there is any other situation where you need our help, then we will do everything possible to ensure we are able to take care of you.
If you need supplies of contact lenses and solutions, these can be posted to you, without any additional charges. To request this service then either call the practice (01904 784040 or 01977 282100) or email enquiries@visioncareoptometry.co.uk, or use the messaging service from your MySight online account.
By taking these steps now, I am confident that whatever the future brings we will be able to continue to provide the high standard of service you have always received. All our staff will remain employed and salaried throughout the crisis and we look forward to welcoming you back into the practice when the threat of COVID-19 has passed.
Stay safe and well,
Ruth Perrott
18 March 2020
Dear Patient,
During this uncertain time, VisionCare Optometry and VisionCare Development are taking the situation regarding Coronavirus very seriously.
We are complying with Government guidelines and making decisions prioritising our community's safety and wellbeing. As always, our mission is to provide a safe and clean environment for your eye care and vision development. We remain well informed about the developing Covid-19 situation and are complying with advice from the Government, Department of Health and the World Health Organisation. We are amending any in-practice policies along with Government and NHS recommendations. We are in daily contact with all our team members and continue to be stringent around hygiene regimes.
We have also increased the regularity of cleaning in-practice, particularly for those areas frequently touched by our team members, patients and customers (door handles, seats, spectacle frames etc.).
In addition to our preventative measures, we also ask that you assist by adhering to the guidelines below:
We ask that everyone:
• Please use anti-bacterial hand gel when entering our premises. We have some in the waiting areas for your use.
• Please wash your hands when using our toilet facilities.
• To help minimise the spread of the virus, we are asking any team member or client with flu-like symptoms, or those who have been in close personal contact with someone who has contracted the virus, to self-isolate for fourteen days.
• As a matter of reassurance, please obtain clearance before returning to work or attending VisionCare to keep us all Coronavirus free so that we can get back to normal as soon as possible
• Feel free to bring your own anti-bacterial gel with you. We will not be offended!
There are some changes to our Terms and Conditions and we will continue to review these as the situation develops:
1. Effective Monday 16th March – the 24-hour late cancellation policy will cease until Wednesday 15th April and will be reviewed then.
2. We are also temporarily recommending no hands-on therapy assists in any setting.
Our patient community matters
Remaining fit and healthy is vitally important for all. This includes diet, movement, hydration (regular sips of water – we have a water dispenser in Acomb), good sleep and vitamins. While we can encourage our vision care community stay fit and healthy in person, we will do so.
To improve our communication to you, we would advise opting-in to our email newsletters via your MySight account via the VisionCare Optometry website and updating your communications preferences. Thank you for your continued support.
We look forward to continuing to care for your vision. Stay safe and well, from everyone at VisionCare Optometry and VisionCare Development.
Ruth Perrott BSc FCOptom
What is myopia?
Myopia is commonly known as being short-sighted. It means you can see things closer to you, but not further away. This is due to the length of the eyeball being too long. This causes images to focus in front of the retina, and therefore appear blurry.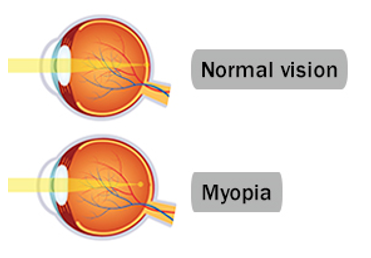 Who is affected?
In 2010 it was estimated that there were 2billion people with myopia. This is set to increase to a staggering 5billion in 20501.
Due to their continued growth, children and teenagers usually face a progression of myopia. Often this can mean their vision and therefore spectacle prescription can change every time they come for an eye exam – even when under 6 monthly review2 (see example below).

Genetics increases the risk of a child being myopic. A child without a myopic parent has a 25% chance of being myopic. If one parent is myopic, then the risk of a child having myopia increases by 3x, and if both parents are myopic, this rises to 6x3.
Why is the prevalence of myopia increasing?
Recent studies have shown that new patterns of lifestyle are contribution to the increase in myopia worldwide. An increase in close work, especially electronic devices such as tablets and phones, poor lighting and the reduced amount of time that children spend outside have all been found to contribute to an increased risk for the development and progression of myopia3.
Why is it a problem?
Not only does myopia mean dependence on vision correction, but as myopia progresses, the risk of related ocular health issues also increases. This includes retinal detachment, glaucoma and myopic maculopathy. Each of these can cause irreversible vision loss.
So, what can we do about it?
Changes in lifestyle – try to reduce the amount of time your child spends on electronic devices and increase their time outdoors. Studies have shown that spending more time outdoors may decrease the risk of myopia or myopia progression4.
Ensure regular eye check-ups – children do not always appreciate there is something wrong with their eyes. All children under 16 in the UK are entitled to a yearly NHS eye exam. Here at VisionCare Optometry we are happy to see children regularly from the age of 3, and sooner if you have concerns (especially if there is a family history of eye related problems such as squint and/or lazy eye). You don't have to wait for your child to be able to read letters, or even speak!
Myopia Control contact lenses – we now fit Coopervision MiSight® 1 day lenses. Unlike standard contact lenses and spectacles, these lenses don't just correct myopia, they may help to slow its progression too5. Where appropriate, we can fit children as young as 8 with these lenses.
Myopia control spectacles – for those not suitable for contact lenses, we can now supply myopia control spectacles* which may also help to slow down the rate of myopia progression.
Please come in and speak to us about any concerns you may have about your child's vision, and to discuss contact lens or spectacle solutions that may help.
More information can also be found on our Myopia Control page.
Holden et al, Ophthalmology 2016
Flitcroft DI. The complex interactions of retinal, optical and environmental factors in myopia aetiology. Prog Retin Eye Res. 2012;31(6):622-660
https://coopervision.co.uk/eye-health-and-vision/childhood-short-sightedness/could-your-child-be-short-sighted
Wolffsohn JS, Calossi A, Cho P, et al GlobalTrends in Myopia Management Attitudes and Strategies in Clinical Practice. Cont Lens Anterior Eye. 2016;39'106-16.
Chamberlain P, et al. Clinical evaluation of a dual-focus myopia control 1 day soft contact lens – 3-year results BCLA 2017
*Not fully covered by NHS GOS3 voucher

Quite the headline I am sure you will agree, and yet each week many drivers make the decision to get behind the wheel, even though they know their vision has deteriorated. Some even make this decision after they have been advised by their Optician that they no longer reach the driving standards.
Key facts
In 2011, 5,285 drivers and motorcyclists had their licences revoked because they could not pass a standard eye test, an increase of 8% since 2010. (Road safety observatory, eyesight and driving, 2013)
A 2013 study by the College of Optometrists suggested that 2-3% of drivers have vision below the minimum standard.
A look at "Britain's eye health in focus" by the College of Optometrists in 2013 also estimated that around three quarters of adults use corrective eyewear or contact lenses.
This same study found that 1 in 20 drivers could had not had an eye test in the past 10 years or couldn't recall when they had last had one.
A 2014 study by Brake, the road safety charity, et el, found that 1 in 4 UK drivers hadn't had a sight test in the last 2 yearsnd that 4% (the equivalent of 1.5 million licence holders) have never had an eye examination.
DVLA statistics revealed in August 2019 that there are now twice as many drivers in their 80's than teenagers on UK roads.
In this article we will look at what the legal requirements are, what will happen if you continue to drive despite substandard vision and when you should and how you can inform the DVLA.
The legal bit
Being able to legally meet the requirements to drive on UK roads is based on two points;
How well you can see; and
How much you can see around you.
The first is measured in two ways and although one is a self-assessment the other can only be achieved by a visit to your Optician.
Test one is whether you can read a number plate (in the design of plate made after September 2001) from a distance of 20 metres away.
The second test is to be able to read the 6/12 line on the letter chart at your Opticians. This can be with spectacle or contact lenses, although if you need either to reach this standard you must therefore where them to drive. Our Optometrist will inform you if you do/don't achieve this standard.
The next requirement is looking at your visual field. To check how well you can see around you when you are looking straight ahead, we will place you on a machine and ask you to follow a red dot whilst counting how many green dots appear around it.
Please note that for driving we are looking at what vision you have with both eyes together and not that both of your eyes meet each standard noted above. This means that should you have an eye disease such as age-related macular degeneration or glaucoma in one eye you may still be ok to drive.
For further reading and to see the most up to date driving legal requirements please visit Gov.uk. Please keep checking back from time to time as requirements can change (even the number plate at the header of this piece will change post 31st January 2020).
After your sight test
At the end of your sight test, our Optometrist will inform you if there are any concerns with you meeting the legal requirements to drive.
It may be that you meet the standards but only if you wear your current spectacles or contact lenses. This is fantastic news as you can drive yourself home and continue about your routine.
If, however, you do not meet the driving standards with your current prescription and are told a new prescription will allow you to continue driving, you MUST not drive until you are in possession of your new spectacles/contact lenses. This includes NOT driving home from your appointment.
There may even be an occasion where we can improve your vision from where it currently is, but not enough to be able to meet the legal driving requirements. This would mean you immediately need to stop driving.
We have leaflets in Practice produced by the College of Optometrists, ("Driving and Vision") which we will issue to you to take away and read more about the discussions we have had with you. This will also provide more information on when to advice the DVLA and how to.
What happens if you continue to drive when told you should not do so?
Apart from the obvious of putting yourself and others at risk, it is a criminal offence to continue to drive if you have been told you are medically unfit to do so, and carries a fine of up to £1,000.
This could lead to prosecution should you be involved in an accident and you may also find that your car insurance to be invalidated.
How to inform the DVLA
YOU must inform the DVLA if you can no longer meet the vision requirements for driving. You can do this by completing a V1 form and submitting it back to the DVLA (to the address on the form).
Section 4 of this form is where you declare that you can/can't meet the legal standards for driving.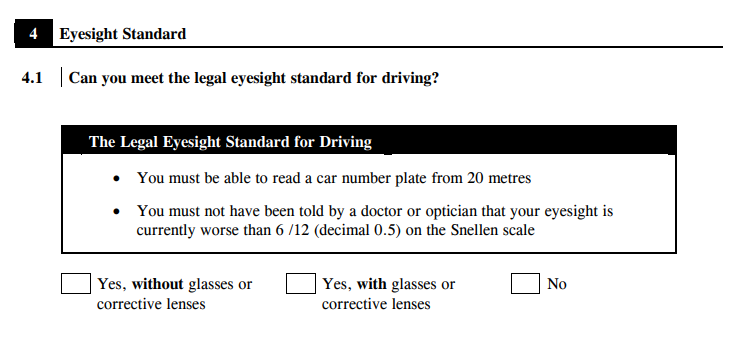 This form can be downloaded from the following page V1
There are other stipulations such as if you have a disability which has got worse since you got your licence or if you have certain medical conditions, even if you can still meet the vision requirements. We have not touched on those in this article, however more information can be found at www.gov.uk/driving-medical-conditions and www.gov.uk/health-conditons-and-driving.
Summary
We cannot emphasise enough how important it is to have regular eye examinations to ensure you meet the legal requirements to drive.
As noted in the key facts at the start of this article, there are now twice as many drivers in their 80's than teenagers on UK roads. A change in vision does not have to mean you lose your ability to drive; we could actually make it easier for you. Not to mention safer for you and those around you.
This is also just as important for teenagers, especially if you have not had a sight test as a child. Your vision is normal to you and you may not even realise that you aren't seeing as clear as possible as you have no other reference. If you are under 19 years old and still in full time education your sight test is free, so get booked in before you take your practical driving test to ensure you can meet the required standards.
ACUVUE® OASYS with TransitionsTM Light Intelligent TechnologyTM
What are they?
ACUVUE® OASYS with TransitionsTM Light Intelligent TechnologyTM are the latest contact lens offering from Johnson and Johnson. They are similar to TransitionsTM spectacle lenses that change from clear to dark on exposure to UV and are the first contact lens of their kind on the market.
They begin to change immediately when exposed to sunlight, and then return to clear within 90 seconds of being indoors. Automatically balancing the amount of indoor and outdoor light entering the eye, they allow the eyes to adapt to changes in lighting more easily, which makes almost all lighting environments more comfortable. They also help to reduce glare from blue light sources such as computer and device screens.
They are not a substitute for sunglasses, as sunglasses also protect the skin around the eyes from UV damage, and the contact lenses do not tend to go as dark as a sunglass tint. They will also not work behind a windscreen.
Personal experience
Our Castleford Optometrist Lizzy, has been using these contact lenses for the past couple of months:
"I first wore the lenses during a very sunny week in New York. I kept forgetting that I was wearing them, as they don't alter the way in which you see. It was nice to have photographs where I wasn't squinting because of the sun. However it wasn't until I got home and swapped back to my usual, clear, contact lenses that I realised how much of a benefit the transitions actually were! I'm quite sensitive to sunlight and will often have to wear sunglasses, even on an overcast day, but realised I had only had to wear my sunglasses on sunny days.
Although they don't adapt fully behind a car windscreen or indoors, they do help to filter some of the effects of blue light from computer and device screens as well as helping to reduce the general glare from overhead lights, and headlights when driving at night. In general I find they make my vision more comfortable all day. As a result I've now decided to make the switch from my previous lenses!"
How can I find out more?
You can contact us, by phone or email, to find out if Oasys TransitionsTM contact lenses would be suitable for you, and to arrange a trial or fitting appointment. 
Introducing ACUVUE® OASYS with TransitionsTM
Restoring Vision In Malawi
Last month Ruth Perrott completed her 14th trip to Africa. Working alongside her professional colleague Sarah Dineen from Glossop, the pair set up four temporary clinics and saw an incredible 1318 patients and dispensed 1051 pairs of spectacles.
Ruth's extraordinary commitment to restoring eye sight to thousands of people in remote locations began 25 years ago when she first visited Africa to help with vision care by treking through the jungle in The Cameroon. Since then she has never looked back with her travels taking her to many remote parts of Africa including Burkina Faso, Malawi, Senegal, Tanzania and Sierra Leone.
Accompanied by a small team of trusted volunteers, Ruth travelled 1324 kilometers over three travelling days, bumping between rural locations, often on unmade roads between Nsaru, Chinteche, Mangochi and Lilongwe.
Efficient Clinics
With so many people to be seen by the team, the clinics must run efficiently. With each African trip the process becomes more efficient. The clinics operate with four stages; a local volunteer speaking Chichewa, the native language, carries out registration before a trained volunteer conducts an eye chart test to measure the patient's vision. The third stage is refraction where the optometrists assess the best binocular lenses before the patient is finally passed to the dispensing area where the appropriate spectacles are found from the library.
Generally, the people helped have little access to medicine or optometry and very little money. The provision of spectacles can have a significant impact on their lives as there is no social security or NHS. In particular, farmers and fishermen who, following years of intense UV exposure, have very limited sight.
The dormitory at Nsaru
During her trip, Ruth spent three nights sharing a dormitory with 44 teenage girls. Despite the often-grueling clinics and the unconventional conditions, the team always received a warm welcome from their hosts and the patients they treated. The last clinic was in Lilongwe and the team saw a record 253 people, most of whom received spectacles in just one day.
Whilst the trips overseas generally only last two weeks, there is constant preparation needed to make the clinics happen. Rotary York Ainsty help to collect, wash, measure and sort the donated spectacles whilst numerous friends, customers and organizations donate money.
Ruth has now completed 14 trips overseas to date and is already planning her next visit in 2018
For more information on Ruth's trip to Malawi watch the video at http://youtu.be/08dVb8HdmFA
Contact lens care
Contact lenses are very popular among people with active lifestyles or outdoor jobs and today's leading ranges can provide crystal-clear vision at varying distances.
While early contact lenses were produced in the Victorian era from glass, most modern contact lenses are made with softer materials like silicone hydrogel. These allow plenty of oxygen to reach the eye's surface. These wafer thin lenses should be treated with respect, but looking after them can be very straightforward.
Disposables
Daily disposable contact lenses represent the ultimate in no-fuss vision correction, since they can be binned after a single use. They're supplied in individual blister packs and inserted in seconds, though it's essential to have clean hands
and to apply makeup after rather than beforehand.
Removing daily disposables becomes second nature, even for children. Many people favour reusable lenses, which are stored overnight in small circular containers. These cases should be regularly sterilised and air-dried and we can  recommend which cleaning solutions can be used to care for the cases and the lenses.
Cleaning
A gentle rub between thumb and forefinger may help to remove any surface impurities from contact lenses, though some cleaning solutions will take care of this by themselves. It's also advisable to keep a bottle of eye drops handy to counteract any dryness or irritation.
Aftercare
Don't forget to visit your Optometrist at regular intervals. This allows us to a) check on the condition of your eye, especially the cornea and b) the condition of your contact lenses.
Book an appointment today online or download your own IoS or Android App or call VisionCare Optometry on 01904 784040 (York) or 01977 282100 (Castleford).
Cry me a river
Although we only usually shed tears in extreme circumstances, our eyes are constantly being lubricated by tears. These droplets of moisture normally reach our eyes and then drain away virtually unnoticed. However a number of eye conditions make our eyes water uncontrollably and this blog post explains possible causes and treatments.
A leading cause of watering eyes is blepharitis, which typically is sen as swollen, dry and itchy eyelids. This is often caused by a bacterial infection or an existing skin complaint, acting on either the outside or the inside of the eyelid. Where excess sleep builds up VisionCare Optometry can use the BlephEx treatment to clean away the debris.
With blepharitis, sufferers are likely to have recurring attacks, however this is not a severe condition. It is suggested that contact lens wear and make-up are avoided as treatment takes place. This normally involves the use of antibiotics together with rubbing the eyelid edges with a cotton bud or a wipe containing a mild cleaning agent. At VisionCare Optometry we also recommend using a warm EyeBag.
Our eyes can also overflow with tears if our tear ducts are blocked or if a medical condition such a hayfever is stimulating excess tears. Sometimes 'dry eye syndrome' can also trigger excess watering. Young babies and the over-60's are often prone to watery eyes. Physical irritations, such as ingrowing eyelashes, ingrained dirt, grit or an inflammation such as conjunctivitis also causes excess tears.
Good hygiene is vitally important for prevention and development of eye conditions. We recommend an early appointment at our PEARS (Castleford) or LES (York) clinics, where you can neatly avoid delays at your local NHS clinics and where we can provide an early primary care diagnosis.
Call VisionCare Optometry on 01904 784040 or 01977 282100 to Make an appointment.
Driving up standards
Driving represents a real feat of multitasking and it places considerable demands on our eyes. From refocusing between distance and near objects (such as the dashboard or SatNav) through to peripheral vision, our eyes need to process a great deal of information. You won't be granted a driving licence if your vision is poor, so that regular eye tests are essential even for occasional motorists.
There are dedicated options which can help your driving vision, such as the polarised Drivewear lens and the recently launched Rodenstock 'Road' lenses which with dedicated optical properties can improve our visual driving experience. Thin frames can also help improve our peripheral vision at road junctions and roundabouts. Anti-reflective coats (MAR) can reduce glare and the dazzle of oncoming headlights.
Of course, effective car maintenance makes a surprisingly big difference to your levels of vision and even dirty windscreens may cause headaches. Replace worn wipers, keep the washer fluid topped up and immediately replace faulty headlight bulbs. Windscreen cracks should be replaced to maintain clear sight lines and windows cleared of mist or frost.
Did you know?
The DVLA needs to be notified about significant changes to your vision such as glaucoma or cataracts but only if they affect both eyes.
There are no restrictions regarding colour blindness/ confusion but you must have adequate visual fields. Our Optometrists can test all aspects of your vision quickly to provide that vital reassurance.
Call today on 01904 784040 or 01977 282100 to book your appointment, or alternatively book online